Organize your digital photos
Do you have a digital camera or a scanner? If you do, BR's PhotoArchiver is the tool you need to keep your photos organized.
BR's PhotoArchiver makes it easy to organize and manage your digital photos. Annotate your photos quick and easy. Browse for photos by year, month, place, event, category, CD, or folder. Share your pictures by making autorun CDs, web-pages, and prints. Keep track of multiple versions of each photo.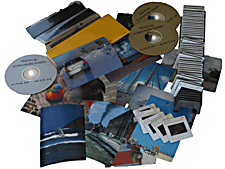 Is this how your valuable photos are organized? Maybe not this bad but how often have you been looking for that special photo and been unable to find it? With BR's PhotoArchiver you will find it in just seconds. And wouldn't you like to easily share your digital photos with friends and relatives? BR's PhotoArchiver can help you. You can try it completely free for 30 days and if you like what you see and decide to buy it, the price is US$ 39. It will run on computers running Microsoft® Windows 98/ME/2000/XP.
Benefits of using BR's PhotoArchiver
makes it easy to keep your digital photos organized
locate any photo easily
store photos online or offline (CD or DVD)
multiple users can share photos and descriptions stored on a network server
view thumbnails of offline photos without inserting CD
Make autorun CD photo albums to share your photos with friends and relatives
view many image file formats including RAW for more then 150 cameras (See list of supported cameras)
organize your photos in hierarchical categories
easy browsing with the new Navigator View
full screen viewing and zooming
slideshow
keep track of multiple versions of the same picture
attach any file to the photo description
create Web-pages automatically
make reports, prints, and contact sheets of your pictures
copy/convert/resize many photos in one operation
view EXIF information
handle large numbers of pictures
annotate your photos quickly and easily




Easy to use
Offering a program which is easy to use as well as fast and compact is important to us. All the most commonly used functions are available through menus, toolbars, and keyboard shortcuts. The important task of annotating the pictures have been made easier by a number of features (default values, update many photos in one operation, pick lists). Every word you enter are treated as a keyword. This makes searching easy and fast. Search for any of the words you have used in the descriptions and BR's PhotoArchiver will locate and display the photos in seconds as thumbnails.

Free 30 days trial
BR's PhotoArchiver is free to try for 30 days. You can download from this site and it takes only a few minutes. This is a fully functional program and you can test the full capability of the product. Import as many photos you want. There are no restrictions. After 30 days, some functionality will be disabled, but you will still be able to search for and look at your pictures. You will have to register to restore full functionality. Registration is US$ 39 and we accept most credit cards. (If you live in Norway, click here). Registered customers will get free upgrades for at least two years. New functionality is planned in future versions. We would also like to hear what you want to see in future versions. Any suggestions are most welcome. Please contact us.