BR's PhotoArchiver
BR's PhotoArchiver is now obsolete and have been replaced by PixFiler. PixFiler is based on BR's PhotoArchiver and has all the funcionallity of BR's PhotoArchiver pluss a lot more. PixFiler will also work fine with Windows Vista, Windows 7 and Windows 8. BR's PhotoArchiver was only fully compatible with Windows XP and older versions of Windows.
PixFiler Picture Organizer Software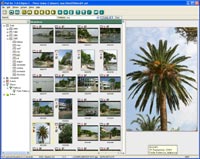 Do you have a digital camera or a scanner? Or do your business have many digital photos you need to keep track of? I'm sure you noticed that keeping track on all those digital photos isn't always easy. PixFiler Picture Organizer will make this easier.
It will locate and display your photos in just seconds. It will read most image formats, even raw files from most digital cameras, no matter if they are stored on your hard disk or on a CD or DVD. And it doesn't slow down as your photo collection grows. Several 10,000s is no problem for PixFiler Picture Organizer.
Benefits of using PixFiler Picture Organizer:
fast and easy to use
powerful tools makes it easy to categorise and annotate the photos
will even organize pictures stored on CD or DVD
make reports, prints, and contact sheets
make auto-run CDs and DVDs and share your photos with your friends
hierarchical categories
get information from EXIF and IPTC meta data
users can share the same data on a network
This is just some of the features of PixFiler Picture Organizer. And in addition to this you get free support and upgrades from the next two years. All this for only $39 (US).

More >> Buy now
Requirements
PixFiler will run on any computer running Microsoft Windows XP, Windows Vista, Windows 7, and Windows 8. PixFiler is a 32 bit program but will run on 64 bit versions of Windows.
Try it today
You can download and try this picture organizer software before you decide if it's the right software for your need. The full functionallity of the program is available for 30 days.

Download now!