Keep track of your digital photos
Do you have many digital photos stored on your computer? How do you locate a Photo?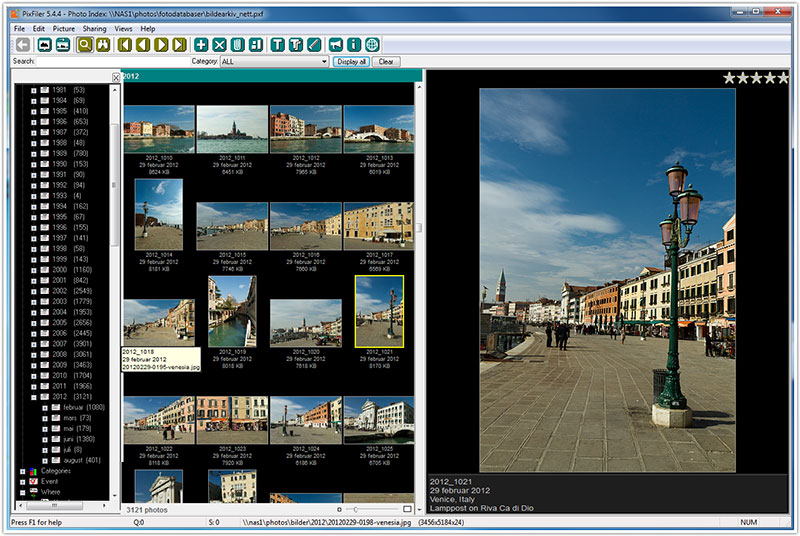 This can be quite a challenge when you have lots of photos. BR Software makes software that helps you organize your important pictures. PixFiler will know where your photos are stored. No matter what kind of photos you have, it may be your family photos, photos and documents for your genealogical research, important photos for your business, or the portfolio of a professional photographer, PixFiler is a tool that will assist you to organize your digital pictures.
We also make the tool BR's EXIFextracter for those who only want to get access to the meta data your digital camera stores inside the image file. BR's EXIFextracter stores the information in a text file that can be imported into most database systems.
Our software
PixFiler 5.4
A simple yet powerful tool to organize your digital photos. Annotate and categorize all your photos. Browse through your photos using the powerful Navigator View. Create CD's, Web-pages, and print your photos.
$39 (US)
PixGPS 1.1
Use a GPS to track your photos. A simple program that can update the EXIF of your image files with the exact longitude/latitude information. This requires a GPS Receiver that can store tracks.
$19.95 (US)
Read more
BR's EXIFextracter
A simple program that reads the EXIF information stored in your photos by your camera and stores this information in a text file. This file can be used to import the data into other programs.
FREE
Read more