Photo Album Software

Do you have a computer and lots of digital photos?
Would you like to get your digital photos organized?
Do you wish you could easily find that special photo?
Do you want to share your photos with your friends?
Do you want to document your photos for future reference?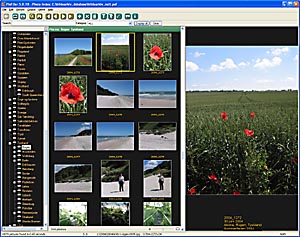 If your answer to one or more of these questions is YES, this photo album software is what you need. With this easy to use photo album software you can really get your photos organized.
It's really easy
Just download the software and run the installation procedure. It's really simple and takes only a few seconds. Add your photos to the photo album and you're up and running. Add annotations and categories. Make autorun photo albums on a CD and send this to friends and relatives. Browse your photo album and really find the photos you're looking for.
Download the free 30 day trial version of the digital photo album and get started TODAY!
Read more
Download
Buy now
If you find you want to continue using the photo album software after the 30 days are up, all you need to do is to register the software and pay the registration fee of $39 (US).
Read more about this Digital Photo album Software