About BR Software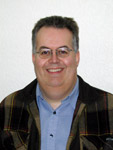 Hello, my name is Baard Riiber and I am the founder of BR Software. BR Software was registered as a company in 2000, but the work on what was to become PixFiler started long before that. The first version was written about 35 years ago on a Commodore PET 2001. It has been rewritten several times since that. The current version is written in C++, one of the fastest and most effective computer languages available. My own photo index still have data I keyed in on the PET 35 years ago.
A few words about myself: I'm 55 years, educated in economics, but have mostly worked with computers the last 30 years. I have 25 years of experience with relational databases, mostly RDB, Ingres, Oracle and SQLite. Nine of those years employed by Oracle, both in Customer Support and Application Consulting.
I have been a keen amateur photographer for 40 years. I currently use a Canon EOS 7D as my primary camera and a Sony NEX-6 as secondary. I have about 45,000 photos in my photo database. They are of course organized in PixFiler which I frequently use myself.